Box Sleeve Printing
Liven up boring or generic packaging with your own bespoke, branded box sleeve or belly band!
Box Sleeve Printing provides all your box sleeve packaging solutions, under one roof. We offer a wide variety of materials, finishing options, shapes and sizes, with an optional in-house professional design service. Need your product packaging in a hurry? Take a look at our Express Packaging Sleeves!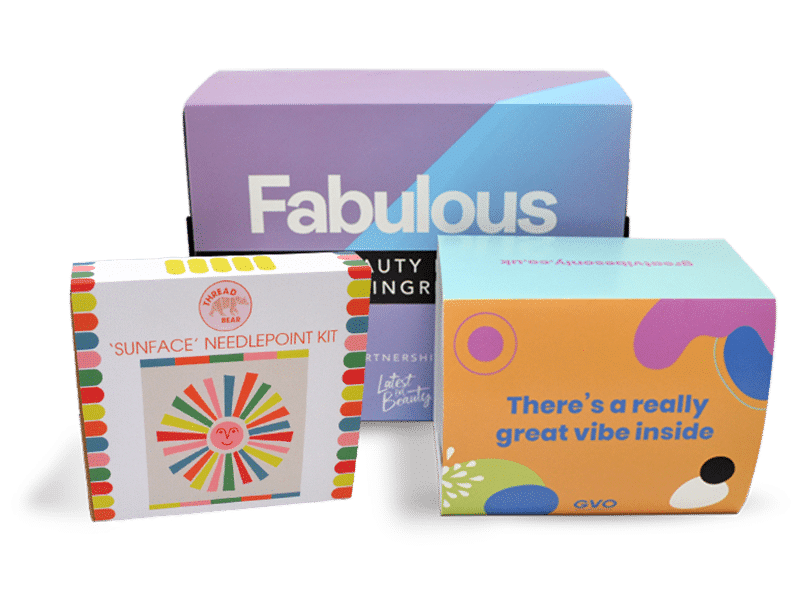 Free Box Checking Service 
Should you decide to place an order with us we'll firstly require one of your boxes which we'll use to create a mock up to check that the score lines are correctly positioned and that the sleeve will fit correctly (we can return the box to you if required).
Once we've made the mock up our designer will create the artwork template which we'll send to you by email.
If you already know the flat size of your sleeve (and you are confident that it will fit your product or box), then take a look at our custom sleeves.
Samples
Not sure which material or weight to choose? Pop over to our samples page and let us know which samples you would like to see – we will send you a sample pack within 3 working days!
We can also produce a printed sample of your artwork for £25.00 – give us a call and we can arrange this for you.
Box Sleeve Packaging
Turn plain, boring boxes into attractive, highly marketable product branded packaging, with custom-printed box sleeves and belly bands from BoxSleevePrinting.co.uk.
These simple cardboard custom sleeves can transform generic stock into beautiful retail-ready merchandise, emblazoned with your unique branding and artwork, at a fraction of the cost of printed boxes.
Use box sleeves for box decoration, displaying branding and conveying offers, as well as providing product information, allergies, ingredients and instructions. Ideal packaging solutions for pairs of cosmetic items, microwave meals, gifts, mugs and many more; custom sleeves are extremely versatile!
We offer a wide range of sizes, shapes, materials & finishes, plus optional in-house design services & custom stickers to seal your boxes, so whatever you need, we can supply!
Artwork & Design Services
We offer a low cost, fixed price graphic design service. Our team of designers can create a bespoke, high-quality design to your requirements. More details can be found on our Artwork Design Services page.
All designs created in-house will be proofed and will need to be approved before printing to ensure the artwork is mistake free!  
Why Use Us?
As a leading supplier of printed box sleeves in the UK, we do not compromise on quality. All our printing is carried out in house on our own machines so we are in control of turnaround times and printing standards. We offer fast, free delivery and with over 30 years' experience, we can offer helpful advice throughout!